<!- User Code Injection -->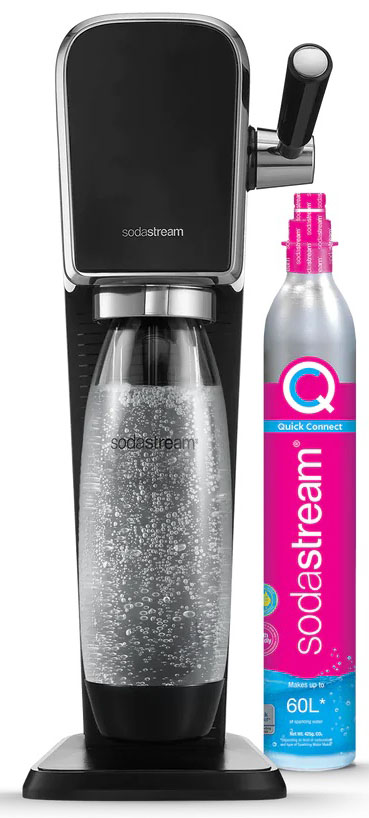 SodaStream Art Sparkling Water Maker - Black
10135115611
The NEW SodaStream Art Sparkling Water Maker celebrates the art of making your own fresh sparkling beverages at home

New Release

In Stock
Free Delivery


Product Overview
The ART features a slim retro design, stainless-steel trim and a unique lever that elevates the everyday water experience.

The Art also features the new Quick Connect technology for fast and easy CO2 cylinder insertion.
Stay hydrated
Make ice cold, fresh sparkling water just the way you like it
Unlimited Taste
Create healthy, delicious soft drinks, cocktails and more
Save the planet
Minimize the effect of single-use plastic pollution
Sleek and stylish retro design with empowering carbonating lever for a unique experience
Premium, stainless-steel trim
Dishwasher safe, BPA free, reusable bottles
Cordless and compact design to fit every kitchen
Quick Connect C02 cylinder: for fast, "one click" cylinder insertion makes up to 60L * of sparkling water
* depending on the degree of carbonation.
Technical Specifications
Brand: SodaStream
Type: Carbonated drink maker
Capacity: Up to 1L Bottles
Dishwasher Safe: Bottle: Yes
Dimensions (HxDxW): 431 x 245 x 169mm
Additional Features: Quick Connect CO2 cylinder connection, bespoke carbonation lever, cordless operation, stylish retro design
Accessories Included: Quick Connect 60L C02 Cylinder, Fuse 1L Dishwasher Safe Carbonating Bottle
Manufacturer's Warranty: 2 Year
Warranty and Delivery Details
WARRANTY
2 Year Warranty
DELIVERY
Delivery (Australia Wide)
1 working day processing period